Car Rental Kosice Downtown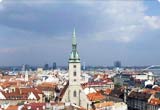 Košice Downtown provides a host of things to do and see for visitors arriving to the city. 2013 sees the Downtown area come alive with exhibits, shows and performers as the city carries out its role of the European City of Culture. The main street through the downtown area has plenty on offer without the additional events as there are a number of types of architecture on display that can be viewed from the pedestrian zone. You can book onto a number of guided tours around the city, but if you wish to go and explore with more freedom you can hire a car through VIP tours and head either into the city, or out into the surrounding area.

Whether you wish to see Gothic Castles and ruins high up on hill tops or indulge in some great rock climbing, there is plenty to find in the vicinity of Košice.