Car Rental Poprad Airport (TAT)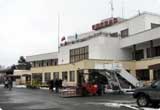 Poprad Airport is a small airport located just outside Poprad that serves the Tatras area of the Spiš region of Slovakia. The airport is a great place to hire a car through VIP cars in order to make the most of your holiday. There are not only beautiful historic buildings to go and see within the town itself, there are also other, more recreational, activities such as skiing and snowboarding.

There are a number of resorts in the Tatras Mountains that can be accessed by the Tatra Electric Railway, a tourist attraction in itself. It is a specially designed narrow gauge railway that will keep any rail enthusiast happy.
If you want to know more about the history of the town and the surrounding region you can also visit one of the museums. There are two museums within Poprad itself and plenty of others in the surrounding area.