Car Rental South Korea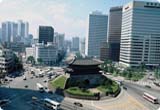 South Korea is a fully developed East Asian country. Located on the southern part of the Korean peninsula, South Korea is a presidential republic and one of the world's richest economies. It is mainly known for its ship-building, automobile and construction industries thus it caters to both leisure and business travelers.

Incheon Int'l Airport, Gimpo Int'l Airport and the Jeju Int'l Airport are the main airports in South Korea. The capital city, Seoul is the most popular destination for travelers and contains many major palaces and temples for travelers to see. Other popular destinations include the historical ancient capital, Gyeongju, the Seoraksin National Park, and the picturesque Jeju Island.

So, book now to get cheapest car rental deals in South Korea.