Car Rental Ansan (All Areas)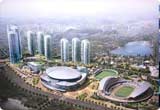 One of the famous tourist destinations situated on the coast of the Yellow Sea, Ansan is known for its extensive collection of museums, art galleries, heritage buildings, and large departmental stores. Besides attracting leisure tourists, the city has gained importance among the global student fraternity. With number of renowned educational institutes such as, the ERICA campus of Hanyang University, the Ansan University, Seoul Institute of the Arts, and Ansan College of Technology being institutionalized in the city, hundreds of students visit Ansan every year. Be it is your educational trip or a leisure holiday, a rental car is essentially required for hassle free commuting.

VIP Cars, a specialized car rental broker, offers frugally priced Ansan car rental deals through its alliance partners. Book a suitable commuting deal now!