Car Rental Bundang (All Areas)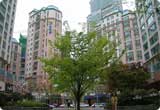 One of the wealthiest districts of South Korea's Gyeonggi Province, Bundang is a happening tourist destination. Distinguished for its well laid out urban planning, the city is among the few Korean cities that have been thoughtfully designed right from the beginning. With well laid out residential complexes, streets, major roads, and industrial hubs welcoming you, driving around Bundang is a pure breeze. Besides couple of ancient relics and structures, you can drive to plenty of other attractions such as, Bundang Central Park, Yuldong Park, St. John's Cathedral, Seongnam Arts Center, Bundang Museum of Nature, AK Plaza, Lotte Department Store, and Nonghyup Hanaro Mart. Gimpo International Airport is the nearest aerodrome facility to Bundang.

Your search for an exclusive Bundang car rental deal ends here!