Car Rental Cheonan City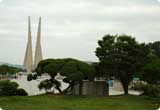 One of the global hubs of cutting edge technical advancements, Cheon An is a gateway to the South Korea's national capital region. Besides housing headquarters of renowned global corporations, the city is home to number of tourist attractions, which are spread across its 247 sq mi. As the metropolis is divided into sixteen major administrative regions, a rental car is genuinely preferred over the other transportation mediums. Points of tourist interest include - Independence Hall of Korea, Cheonan's Postal Museum, Gagwonsa Buddhist temple, Seong-bul-sa Temple, Hyeonchung-sa Temple, Samgeori Park, Cheonan Samgeori Park, Taejosan Park, and Arario Gallery.

Just follow three easy steps to book a super saver Cheon An car rental deal from VIP Cars!