Rent a Cheap Car for Thailand on VIPCars & Save Money!
| | |
| --- | --- |
| What Do You Need to Rent a Car in Thailand | – Driver's License, an ID, and a Credit Card |
| Minimum rental period: | 1 day |
Compare the car rental deals for Thailand on VIP Cars and book the vehicle which best suits the itinerary plan you have in mind for your vacation. No matter whether you are visiting Northern Thailand's Chiang Mai, South's Phuket, or, Gulf or Andaman coast regions, with us you can find the perfect deal in no time. So, 'Should you rent a car in Thailand?'! Absolutely!! From mountains, breathtakingly beautiful beaches, waterfalls, vibrant nightlife, Thai cuisine to temples & rich architecture, Thailand is bursting with places to visit and all you need is a low priced rental car to explore it thoroughly. Moreover, if covering the best road trips in Thailand is one of your priorities, it is one more reason that makes renting a car in Thailand a good idea!!
Once you have your Thai holiday planned out, we let you find cheap car rentals for top locations such as Bangkok, Bowin, Chiang Mai, Pattaya, Krabi, Surat Thani, Ko Sumai, Phuket and every other major city or island in the country. When booking a rental car in Thailand with us, you can also choose any major airport as your pick up destination. Isn't that just great!
Related searches
Cheap car rentals in Thailand: Economy, mini, compact, sedans and intermediate cars are the cheapest to rent in Thailand. They are great for city travel.
Luxury rental cars for Thailand: With us you can rent cars from various sports & luxury car-types like Mercedes, Ford, & BMW. Note that you should be at least 25 years old to be eligible to rent a luxury car.
Van rental Thailand: For people who are traveling with a big group of family and friends, they can rent minivans or vans with seating capacity varying from 7, 8 and 9 to 12 seats vehicles.
*This information is for guidance and may change with time, call us to know more.*
Car Rental Companies
We Work With in Thailand
Thailand, previously known as Siam, is situated in the middle of the Indochina peninsula in Southeast Asia. Popular for its cuisine, beaches, temples and tropical climate, Thailand is a treasure trove of attractions. Since, every single city in Thailand has so much to offer and every traveler has their own needs and list of things to do, we tend to provide a great car fleet through a variety of suppliers.
VIPCars have tie-ups with some of the finest rental companies in Thailand, which makes it easy for us to provide a big variety of car categories that travelers can book as per their travel plans, group size and budget needs.The following are the car rental companies VIP Cars works with in Thailand:
Hertz
Avis
Sixt
Budget
Thai Rent a Car
Most Popular Pick-up & Drop-off locations in Thailand
As already stated, VIPCars and its suppliers cover a big network of locations in Thailand, both city and airport locations. Some of the most popular city pickup and drop-off locations in Thailand are stated as under;
Bangkok
Phuket
Chiang Mai
Krabi
Koh Samui
Khon Kaen
Chiang Rai
Pattaya
Hat Yai Intl Airport
Chiang Rai Intl Airport
Don Mueang Intl Airport
Phuket Intl Airport
Suvarnabhumi Airport
Krabi Airport
Chiang Mai Intl Airport
Udon Thani Intl Airport
Samui Airport
Surat Thani Intl Airport
Ubon Ratchathani Airport
Hua Hin Airport
Major Terms & Conditions for Car Rentals in Thailand
Acceptable Forms of Payment

The credit card must be issued in the name of the main driver, and the name & signature should match the ones on the driver's license. The suppliers usually allow American Express, MasterCard, Visa, and Union Pay cards for payment; refer the rental voucher for more information.

Do I need an IDP to rent a car in Thailand?

An International Driving Permit is essential in case your Driving license (DL) is not in English. However, note that an IDP only acts as the translation of your DL, it has no significance without the DL; no rental company will let you pick the car if you have your IDP but not your DL.

Valeting fee

Make sure that your rental car is clean because you might have to pay charges if the car needs more than a reasonable amount of cleaning after the rental.

Minimum age to rent a car in Thailand

Anyone who is 21+ and has a valid driving license (DL) with a prior driving experience of at least a year, an identification proof – for instance, your passport – and a valid credit card can rent a car in Thailand.

Fuel charge

In most cases, vehicles are provided with a full tank of fuel at the time of rental pickup and must be returned with the tank refilled. Otherwise, the specified refueling charge will be applied. This is the most common fuel policy, but if your rental voucher speaks of a different one, you will have to follow that.

Cancelation, Early and Late Return

If you cancel 48 hours before your rental pickup, your pre-paid amount will be refunded. If you return the car rental before the original return date without notifying the supplier, no refund requests will be entertained. If you return the car hire after the grace period, the deposit will be refunded after deducting the late-fee charges.

No Show

The following cases will be considered a 'no-show': when the renter fails to pick the car at the pre-arranged time and date; when the renter fails to meet the rental requirements, or when the credit card in the name of the main driver doesn't have enough funds

Mileage / kilometers

Though most of the suppliers provide unlimited mileage, read the rental agreement properly for details to know if there are any restrictions and locations where the car can't be taken; this is because in those places unlimited mileage will not hold true.

Can I use a debit card or pay in cash?

Usually cash and debit Cards are not accepted; have a word with us, the supplier or read the rental agreement for more information.

One way rental

One way rental is available for all Thailand locations covered by our suppliers. One- way drop-off charges may apply.
Inclusions offered with our Thailand car hire deals
Note that the insurances provided here are for guidance purposes, all of them may not be offered by all the suppliers.
Collision Damage Waiver (CDW)
Also known as Loss damage waiver, this insurance offered by the supplier is capable of covering damages in case of an accident. However, do check with the representative at the time of pick-up to know the parts which are covered by CDW. It just covers the damages done to the rental car, not the damages to the vehicle with which the collision occurred.
What if CDW is not included in the deal
In that case, if you have your own auto insurance, it usually covers the rented vehicles, however, still check with your company whether it is extendible to your rental car or not. If you don't have your auto insurance, you can check with your credit card company as they also provide insurance cover, provided you paid for the rental with your credit card.
Supplemental Liability Insurance
This covers the costs of the damages received by other vehicles during the accident. If you don't have your own auto insurance, the presence of this insurance with the deal should be enough to ease your mind.
Theft Waiver (THW)
If you have your personal liability insurance, it covers not only the bodily injuries but also the property damages. So, check with your insurance company to know whether their cover is valid on rental cars or not.
Note that, these insurances work only if the drivers adhere to the terms of the rental agreement. The insurance waivers will not cover damage costs incurred under circumstances like careless or negligent driving, driving while drunk or under the influence of drugs etc.
Driving Tips for Thailand
In Thailand, drivers drive on the left-hand side of the road and overtaking is allowed on the right hand-side.

Pay heed to the traffic lights, don't drive if you are drunk, wear proper seat belts and take U-turn with caution.

Driving in Thailand is quite the opposite of the driving practices in the West, you never known when will someone come from the wrong direction; so drive with all your senses on alert.

In Thailand, drivers don't give way to pedestrians even on pedestrian crossings; so don't stop for the people on foot as it will hamper the traffic and could be dangerous for you as well as your fellow drivers.

Honking, tail-gating and changing lanes is quite common in Thailand, so be mentally prepared for all these things.

Police may ask you to pull-over for a small check, and if you have all your documents and car rental agreement, you don't have to worry about any penalties!

Drivers usually never stop at intersection and don't assume that the drivers going before you will remain in the same lane.

In Thailand, you can park your car rental almost anywhere; just make sure it is not hampering the flow of the traffic.
North and South Thailand Road Trip Ideas
Thailand is home to some of the finest attractions, but since they are a bit scattered around the country, planning your road trip is the key! Here we are providing a sample itinerary that you can use while exploring North, South, and the Gulf & the Andaman coast regions of the country.
Cities to See in Northern Thailand
Chiang Mai

North Thailand's most populous city has over 300 temples out of which the 14th Wat Phrathat Doi Suthep, Wat Phra Singh, complete and the 15th century Wat Chedi Luang are the must-visits.

Mae Hong Son

This city borders Myanmar and is known for its diverse culture which makes it a must visit stop while exploring N Thailand. Besides trekking, this place is also famous for Mae Hong Son loop, a 4-day road trip which starts and ends in Chiang Mai.

Chiang Rai

This city is the entrance to the Golden triangle – the region where Laos, Thailand and Myanmar meet. White temple, the Buddhist temple of Munniti Chaing Rai and the black house and the cultural hall museum are some of the attractions the city offers.

Phrae, Mae Sai & Lampang

While Phrae is known for its many historic structures, Mae Sai is quite popular with tourists which use it as the passage to Myanmar. Lampang is an ancient city which has been in existence for the past 1000 years.
---
Cities to See in South & Southeast Thailand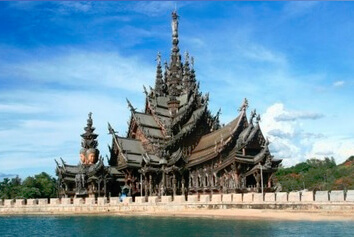 Pattaya
Also known as the 'Riviera of the Eastern Seaboard', Pattaya is a great place to be, and the nearby island of Ko Chang and Ko Samet are like the icings on the cake. Ko Chang is Thailand's second largest island and is home to a national park!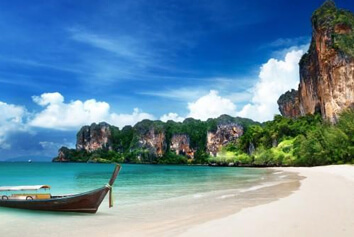 Thailand's Andaman Coast
This region gives access to Phuket which is located to the south of the Andaman Coast. Khao Sok National Park is also located nearby on the west coast; other note-worthy places are Krabi, Aao Phang Nga & KO Lanta.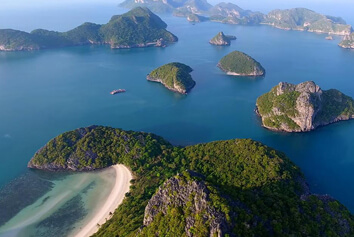 Thailand's Gulf Coast
Home to cities like Hua Hin – which is a family-friendly resort city- and Ko Samui, the largest of the 80 islands – Thai Gulf Coast is a mesmerizing region. Pranburi and Ko Phangan are also some of the region's popular places.
---
Cities to See in Central Thailand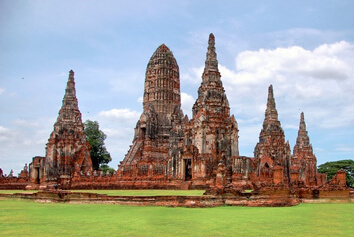 Ayutthaya
Home to the ruins of the buildings which were destroyed in 1767, this place is UNESCO's World heritage site. Wat Phra Sri Sanphet, Wat Phra Ram, Wat Phra Mahathat and Wat Ratchaburana are some of the noted places in Ayutthaya.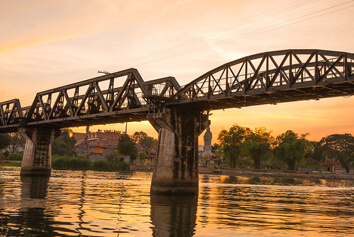 Kanchanaburi
Built in the time of WWII, Kanchanaburi is a quiet town which is best known for its Death Railway. Other note-worthy places are Allied war cemetery, Thailand Burma Railway Center, Erawan National Park and JEATH War Museum.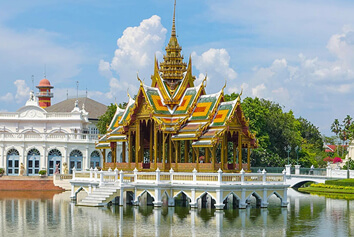 Bang Pa-In
Though just a village, it is of great importance because of the presence of the Royal Palace. This palace was used when Ayutthaya was the royal capital, and was abandoned when the capital was moved to Bangkok.