Car Rental Uruguay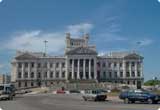 Located in the southeastern part of South America, Uruguay is the 2nd-smallest country in the region. The name Uruguay entails river of colorful birds. Uruguay has a robust agricultural and civic history amongst its native people.

One of the greatest experiences to have during your stay at Uruguay is to watch out a game between Nacional and Penarol which are the two most followed football teams in the nation. The most significant beaches are Punta del Este, La Paloma, Piriapolis, Cabo Polonio, and Santa Teresa.

At VIP Cars, we work in association with leading car suppliers and we offer a huge fleet of cars ranging from economical to luxurious segments. Book your rental now and plan your stay in this land of beaches and colonial structures.