Car Rental Montevideo Downtown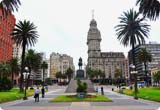 One of the liveliest spots the city where every month there is one or another festival or carnival, Montevideo Downtown is no less than a paradise. Besides playing host to numerous cultural extravaganzas such as, Gaucho festival and Montevideo Carnival, the downtown to home to number of plush hotel accommodations and restaurants that serve mouth watering dishes and desserts. As plenty of monuments are located within your driving range, you can go for a rental car that lets you explore the capital city along with its downtown thoroughly. With VIP Cars offering three steps Montevideo Downtown car rental reservation, you are assured of a quick and hassle free booking.

Your wait for a super saver Montevideo Downtown car rental deal ends here!