Car Rental Sacramento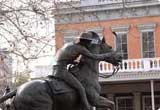 Sacramento is the capital city of California and situated at the concourse of the Sacramento River and the American River in the northern part of California's grand Central Valley. The oldest part of the town as well Sutter's Fort is Old Sacramento which comprises of paved streets and number of historic buildings. There are numerous major theatre venues for Sacramento. Sacramento Convention Center Complex runs both Memorial Auditorium and the Community Center Theatre. The Crocker Art Museum is the oldest public art museum located west of the Mississippi River. Previously recognized as Plaza Park, Cesar Chavez Park is a good-looking park located in the heart of downtown Sacramento that connects historic City Hall, Sacramento's Citizen Hotel, and the Public Library. Sacramento Zoo is a medium-size zoo situated in William Land Park.
Contact our 24/7 customer support team to book car rental for Sacramento.