Car Rental Grand Junction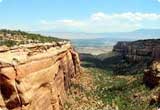 Grand Junction is a large city and the seat of Mesa County in western Colorado. Nicknamed the 'River City', the term the term 'Junction' in its name came for the cities location alongside the Colorado River where it meets the Gunnison River from the south. This area is also known as a major fruit growing and wine producing region. The Country Jam Ranch located here is a permanent music festival site and holds numerous festivals around the year including the Country Jam which attracts many country music fans.

The Colorado National Monument is located here and is a unique series of canyons and mesas where one can go on hiking trails, horseback riding, hunting, mountain biking, river rafting or go for scenic drives. One can indulge in wine tours around the region or go on archaeological excavations where you can help museum scientist excavate Jurassic era dinosaur fossils.