Car Rental Ronald Reagan Airport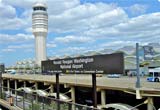 Ronald Reagan or Ronald Reagan Washington National Airport is named in honour of the former US President. It is 5 kilometres outside of the Washington D.C. downtown area, in Arlington County, Virginia. Earlier known as Washington National Airport, the airport has three terminals and excellent facilities for passengers.

A variety of airlines operate flights to and from the airport, linking people to a variety of destinations, primary within the US and Canada. Airlines include Air Canada Express, AirTran Airways, Alaska Airlines, American Airlines, American Eagle, Delta Air Lines, Delta Connection, Delta Shuttle, Frontier Airlines, JetBlue Airways, Southwest Airlines, Sun County Airlines, United Airlines, United Express, US Airways, US Airways Express, US Airways Shuttle, and Virgin America. There are also cargo carriers. The airport is a major gateway to the capital of Washington D.C. VIP Cars is the preferred choice for all car hire from the airport.