Car Rental Richmond Airport [RIC]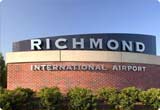 Richmond Airport is a public airport serving the city of Richmond in the State of Virginia, United States. A joint civil-military venture, this airport is located in the unincorporated territory of Sandston, around 11 km's southeast of Downtown Richmond. This airport serves over 3.5 million passengers annually and is served by 7 major airlines who have direct flights to 20 domestic destinations along with connecting flights to many international destinations.

The major airlines serving this airport are Delta Connection, US Airways Express, and United Airlines who connect it to major destinations like Atlanta, Charlotte, Chicago, Dallas, Boston, Philadelphia and New York. This airport has many modern amenities in it for the convenience of travelers such as an Inter-Faith Chapel, free Wi-Fi, ATM machines, a business center, a News and Book store, a gift shop, along with a number of dining options.