Car Rental Norfolk Downtown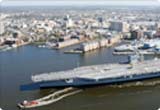 We provide travelers visiting Norfolk Downtown to book low cost yet efficient car rental deals. Norfolk Downtown is located at the city's historic waterfront and has traditionally been the main area for shipping and other port activities in the Hampton Roads Metropolitan area. Norfolk Downtown has also been heavily renovated in the last few years with a vibrant shopping area, gourmet restaurants along with a number of attractions taking center stage here.

Norfolk Downtown has a number of attractions for travelers to visit. One can visit landmarks such as the Battleship Wisconsin, the Chrysler Museum of Art, the Hampton Roads Naval Museum or the McArthur Memorial Museum. One can also enjoy the vibrant nightlife by visiting popular locations such as the Palace on Plume, Big Easy Oyster Bar, Baxter's Sports Bar, Bite Restaurant and Catering, the Granby Theater and the 'Jewish Mother Backstage'.