Car Rental Bellingham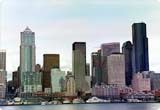 The City of Bellingham is a popular destination known for its outdoor activities along with its small town feel. This city also holds a number of events all around the year. The April Brews Day is held annually on the last Saturday of April and is a 5 hour long brew tasting event attracting people and Brewers from all over. Ski to Sea is another popular event held here and is held between 7 men teams who each take on events such as cross-country skiing, downhill skiing, running, bicycling, canoeing, mountain biking and sea kayaking.

The Fairhaven district is the most visited here with a number of historical buildings, restaurants and shops in it. The Whatcom Falls Park is situated in the center of the city and contains a depression era park along with four waterfalls, including the Whatcom Falls and Whirlpool Falls, fishing ponds, playgrounds and athletic fields.