Car Rental Beaver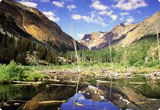 Beaver a small town located in West Virginia, USA is famous for its state parks, creeks and hiking trails. This quaint town has a treasure of lush greenery, warm hospitality and charm. During the early days of the evolution of this place its creeks were swarmed with beaver and hence the name of this place was derived.

Must see in beaver

Beaver can also be called as the 'Paradise' for hikers. Its numerous creeks and trails make it an ideal location for nature and adventure lovers. Beaver state park has a number of trails such as the Billy goat's gruff, creek bed, laurel creek, railroad ridge and toppers ridge etc. Laurel creek at beaver state park is the best place for cycling along its trails.Animal lovers can get to watch beavers, deers and squirrels. People visiting this place can even go fishing and boating enjoying the excellent view of this tranquil location.

Travel

Major airports located near beaver include Beckley airport, greenbrier valley airport and Yeager airport. These locations are easily accessible by rent a cars. Travel within beaver can also be made easy by cars. VIP cars offers flawless service from convenient pick up points to Beaver .plan out your next trip to this scenic location with VIP cars and experience the best car rental suppliers, vehicles and deals. Book today!