Car Rental Huntington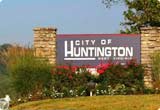 Located about 163 miles northwest of Lewisburg, Huntington is a major river port city of the United States of America. Spread across 18 sq mi, the city boasts of one of the largest metropolitan areas of West Virginia. Situated on the southern shore of River Ohio, Huntington is just 135 miles south of Columbus, Ohio. A major tourist destination, the city is known for - Huntington Museum of Art, Collis P. Huntington Historical Society and Railroad Museum, Camden Park, Ritter Park Historic District, Museum of Radio and Technology, Memorial Park, and Beech Fork State Park. Two major airports including, Tri-State Airport and Yeager Airport, located about 12 miles and 57 miles away respectively, serve Huntington.

Avail a competitively priced Huntington car rental deal from VIP Cars now!