Car Rental Sarajevo Airport [SJJ]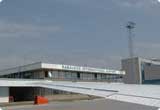 Sarajevo Airport is the main hub of air passengers in the country of Bosnia and Herzegovina. Sarajevo, being the capital of the country is a lively and interesting city with plenty of touristy spots.
With a rental at the airport, you can plan your stay and itinerary as per your convenience. With so much to see, this city is best explored with a car to drive around. A popular tourist destination, Morica Inn is a well-preserved Ottoman Inn with engravings of a Persian poet in the 12th century.

Currently the place is home to a carpet seller and a restaurant. Your Sarajevo excursion won't be complete without a trip down the cobbled streets of the old town. You will find a synagogue, Orthodox Church and a Catholic Church all in a Middle Eastern setting. The another stop would be the Latin Bridge, infamous site of the assassination of GavriloPrincip.

All of this is within your reach with a low priced rental car service. VIPcars.com works with some of the most trusted brands in the county to get you best deals.