Car Rental Tuzla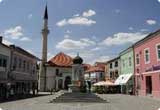 Tuzla being a tourist destination of the north east portion of Bosnia and Herzegovina truly has a handful of beautiful spots to offer them.

For a glimpse of local artistry check out the Portrait Gallery which showcases local artists' works and international ones too. If you like art to be more dramatic and compelling then The National Theatre of Tuzla will do you good. If you are more into great structures then Tuzla's mosques, Franciscan Monastery and Orthodox church are a must visit. Tuzla has three salt lakes and the second largest one boasts of Neolithic lake dwellings with plenty of drawings and markings. Another popular attraction is the Pannonian Lakes.

VIP Cars have a fleet of cars to choose from ranging from luxurious models to SUVs and even economical ones at an all-inclusive pricing.