Car Rental Sarajevo Downtown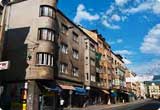 When visiting Sarajevo in the country of Bosnia and Herzegovina, it is only logical to see the hustle and bustle of Sarajevo Downtown.

Sarajevo Downtown offers a lot of museums like the Sarajevo Tunnel Museum which is 5 km long and has a very interesting history. Bosnian Historical Museum is another attraction where heartbreaking photos of the siege of Sarajevo are showcased. Sarajevo downtown is also home to several historical and religious buildings like Bey's mosque or BegovaDzamija, Emperor's mosque or CarevaDzamija and the old Orthodox Church. If you get famished with all the sightseeing, another must stop is InatKuca. A lovely old Turkish house cum restaurant situated near a river in Sarajevo Downtown that offers stewed like dishes.

All of these places are conveniently reached by hired cars from VIPcars.com. Rest-assured, VIP cars is an international rental broker that offers all-inclusive pricing and a guaranteed low price.