Car Rental Banja Luka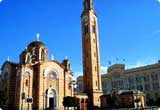 Banja Luka, located in the west portion of Bosnia and Herzegovina, is a charming city. It is the second largest city in the country and boasts of many attractions to tourists.

Amongst the many historic building in the city is the Cathedral of Saint Bonaventure. This was erected in the 18th century but was completely damaged in an earthquake. The present structure is a rendition of the original. A model of Islamic architecture way back in the 16th century is the Ferhat-Pasha Mosque and is considered the country's national monument. The only Trapist Monastery in the West Balkans is near PivaraBanjaluka. They are famous for their cheese and wines. Banja Luka also has: Monastery of Gomionica, Governor's Palace and the Kastel.

All of these places are easily reachable with a car hire servcie. Rest-assured, you are booking from a leading car rental service provider. You can check more details at VIPcars.com.