Car Rental Dusseldorf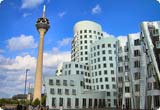 Dusseldorf is a city located near the Rhine River in Germany. The city is an international finance and business center as well as renowned for its many tourist attractions. Many tourists frequent the city to sample its local brand of beer called Altbier.
However, aside from beer, there are many things that tourists can do while exploring Dusseldorf. Tourists can enjoy the scenes in Burgplatz especially the statue of cartwheelers. Other attractions include the theaters of Apollo and the Deutsche OperamRhein. There are numerous museums in the city where tourists can learn about the history as well as arts and these include the AkademieGalerie and the Aquazoo-Lobbecke-Museum.

With the many attractions in Dusseldorf, exploring the city is best done if tourists hire cars from VIPcars.com. At VIP Cars, we have the widest selection of rental vehicles to choose from. Our fleets include a variety of luxury and economy segments.