Car Rental Milan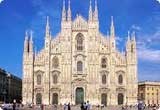 The first thing that pops in the mind when you think of Milan is the glamorous and worldwide famous event the 'Milan Fashion Week'. But there is much more to Milan than this. Besides being Italy's most fashionable city, Milan offers plenty of mesmerizing and jaw dropping tourist attractions that create long lasting memories.
The city is located in the northwest of Italy, 30 miles to the south of the Alps in the Lombardy region. Encompassed by the beautiful gushing lakes Como and Maggiore, Milan's scenic beauty will leave you captivated. Milan invites tourists to explore its wide array of buildings, churches, monuments and historic attractions like the famous La Scala Opera House and Basilica Sant' Ambrogio, one of the oldest churches in Milan. The rich art and culture from the Renaissance era like the Last Supper painting by Leonard Di Vinci is a must see.

In addition to this, there the city has top class shopping arcades and fabulous fine dining places offering tempting Italian delicacies.

The city has a proper road infrastructure which makes travelling by car more convenient and exciting. To experience the people, life and rich culture of Milan, make a booking with VIP Cars. We offer affordable and luxurious car rental pick-up services that will make your experience of exploring Milan unforgettable.