Car Rental Naples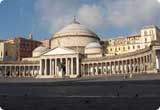 After Milan and Rome, Naples is considered to be the 3rd largest Italian municipality and has an an area spreading 1,023 km2.

It has a strong historic background dating by to the second millennium BC of the Greek settlements. The city then evolved in the sixth century BC as a Roman society and now recognized as a Roman Republic cultural center. The city offers mind blowing historic attractions to feast your eyes on like the historical castle 'Castel Nuovo' and the National Archaeological Museum where you can see artifacts of the Roman Empire. To experience Naples at its best, travelling by car is advisable as it is more comfortable and convenient.

At VIP Cars, we provide you fast, reliable and insured car rental solutions at an affordable price. We have a comprehensive suite of top brands of cars for you to choose from. Rent your ride now!