Car Rental Pisa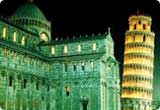 Located on the bank of river Arno, in Tuscany, central Italy, Pisa is a beautiful Italian city known across the globe for its impressive historic architectural marvel the 'Leaning Tower of Pisa'.
In addition to this, the city treasures several other historic jewels like the University of Pis built in the12th century, the Piazza del Duomo Cathedral, the monumental cemetery 'Campo Santo', knight's square and the church of San Nicola built in 1097.

To explore the place you can book a rental ar, as it offers you the freedom to travel around the city at your own convenience wherever and whenever you want. The flexibility factor helps you enjoy and experience Pisa at your own pace. At VIP Cars we offer you affordable, world-class and reliable car rental solutions in collaboration with the leading suppliers worldwide. We ensure that you have a smooth and a hassle-free ride across Pisa.