Car Rental Venice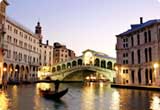 Venice is a city built on a span of around 118 tiny islands in a lagoon between the Po and Piave rivers. The islands are linked by the famous bridges and canals of the city. These features, along with the heritage and history of this city are why Venice was declared; in it's entirely, a UNESCO world Heritage site.
One of the best known attractions of Venice is its annual Carnival, leading up to the start of lent. It's during this carnival that elaborate masks and costumes are worn. Other festivals which occur thorough the years are the Biennel, the Fiesta del Redendor and the Venice Film Festival. All of these are important part of the arts scene in Europe.

Venice is beautiful in terms of its architecture, natural beauty as well as the lively vibrant hustle bustle it offers. Surrounded by many interesting places, Venice has lot more to offer than you can think of. Rent a car now to plan your commuting outside Venice.