Car Rental Japan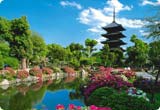 Popular as 'Land of the Rising Sun' and a country where the past meets the future, Japan is an island country located in East Asia and comprises of 6,852 islands. From skyscrapers, ancient architecture, Japanese temples, mountain tops, beautiful gardens and landscape to Sushi, Japan is a country with so much to see, do and explore.

While capital city Tokyo is modern with high rise buildings and financial offices, cities like Hiroshima and Nagasaki are world famous for witnessing the World War and Atomic Bomb attack. Sapporo gives you snow festival while city like Nara introduces travelers to many historical buildings and Buddhist shrines.
The endless list of places to see in Japan also includes the popular snow-topped volcano Mount Fuji, Yakushima, Dewa Sanzan and many more. A country like Japan is best covered when you have a car to drive around and explore local attractions on your own. Call us to book your rental or make use of our user-friendly booking form!