Car Rental Fukuoka Airport [FUK]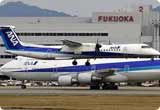 Fukuoka Airport formerly known as Itazuke Air Base is an international and domestic airport situated around 3 km east of Hakata Station in Hakata-ku, Fukuoka, Japan.The airport is linked to whole parts of the city by Kuoka City Subway. The airport is indicated as 2nd class airport. Fukuoka Airport is the 4th busiest passenger airport in Japan and it handles around 18 million passengers annually. The airport has single runway and 4 passenger terminals. A free shuttle bus drives you from domestic terminals to the international terminal getting about 15 minutes.Sky Dream Fukuoka situated in Fukuoka City's western ward was one of thebiggest ferriswheels in the world at a height of 120m. Fukuoka Castle situated next to Ohori Park has the persisting stone walls and ramparts left after aannihilating fire during the agitation of the Meiji Restoration.

Book your car rental at Fukuoka Airport from VIP Cars.