Car Rental Chitose Airport [CTS]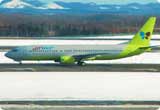 Chitose Airport is situated around 5 km south southeast of Chitose and Tomakomai, Hokkaido, Japan. This is the largest airport in Hokkaido by land area. The 894 km Chitose - Tokyo Haneda route is the busiest air route in the worldwide with 8.8 million passengers transported in 2010. Chitose Airport hasa smaller international terminal with 6 gates and a semicircular domestic terminal with 18 gates. The airport has 2 long runways and it handles around 17 million passengers every year. China Airlines runs its Sapporo office on the 3rd floor of the airport building. The on-Airport Hotel Com with 188 rooms located in the Domestic Terminal approachable via front desk on level 3F and houses lounge bar Rob Roy and restaurant Iris as well as big conference room.

Hire a car at Chitose Airport and travel in and around the city with utmost ease.