Car Rental Hakata Train Station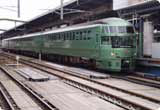 Hakata Train Station is situated in Hakata-ku and the primary railway of Fukuoka city. Hakata Train Station is the leading and busiest station on Kyushu. The Sanyo Shinkansen from Osaka finishes at this station. The station was reconstructed in 2011. A new bigger station building as well as new platforms and office buildings were built. The new station building has Hankyu Department Store and other first-in-Kyushu branch retailers with Tokyu Hands.Hakata was the conventional center for the making of Hakata ningyo. Hakata ori is a textile utilized for obis of kimonos. The city is also home of Mentai Rocks. Neo Mentai Rocks is the namepresented to a latestrejuvenation in activity from local musicians.

Hire a car at Hakata Train Station from VIP Cars at low prices.