Car Rental Safat Sheraton Hotel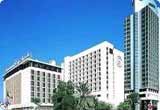 Safat Sheraton Hotel is situated in the central part of the Kuwait City and engulfed in the hustle, bustle and business oriented city of the country. It is not far from the Arabian shores and also located closer to major sight of attractions.The hotel is all about royal leisure, suites, spas, concierge, outdoor swimming pool, health club, towers lounge and executive floors and others, available 24*7.

VIP Cars offers easy car rental pick up at Safat Sheraton Hotel to let you plan commuting from the hotel to various destination sin and around Safat city. Getting a rental to drive around the city means you will not miss on places and tourists' attraction sights. While your stay at the Safat Sheraton Hotel, you can experience luxury at its best.