Rent a cheap car for Kuwait Airport (KWI) on VIP Cars
---
Make your trip from Kuwait Airport (KWI) a smooth and hassle-free affair by renting a car from VIP Cars. Whether looking for a luxury car, an economy one, or a convertible, book your Kuwait Airport car rental with VIP Cars and get access to discounted monthly & daily deals offered by some of the most renowned suppliers. With us, you can search & compare rates by these suppliers at one place and can save a lot of money and time in the process. So, don't wait long, book your Kuwait Airport car hire in advance for bigger savings!
Car Rental Desks at Kuwait Airport (KWI)
There are about 11 car rental companies which have their car rental desks at Kuwait Airport, out of which the following are VIP Cars' partner suppliers
Dollar Thrifty
Europcar
Hertz
National
Sixt
Auto Drive
(KWI) Kuwait Airport Car Hire – Offered Car Categories
While searching for your Kuwait Airport car rental, you can expect to see the following car categories
Economy
Standard
Convertible
Minivan
SUV
Luxury
Full-size
Compact
This list may change, depending on the availability of the car category on the supplier's end.
Kuwait Airport (KWI) – Overview
Located in the south of Kuwait city, in the suburb of Farwaniya, Kuwait International Airport is spread over an area of about 37.7 square kilometers. Though it serves as the hub for carriers like Jazeera Airways and Kuwait Airways, a big portion – almost half of KWI Airport – has been designated as the headquarters of the Kuwait Air Force, and is known as Al Mubarak Air Base. It also houses Kuwait's Air Force Museum.
| | |
| --- | --- |
| Address: | Kuwait International Airport, Gazali Expressway, Kuwait |
| IATA Code: | KWI |
Points of Interest in Kuwait
Sharing borders with Saudi Arabia and Iraq, Kuwait is a country in Persian Gulf which is best known for its intriguing mix of metropolis and the areas that can be classified as purely Arabic. Same can be said for its attraction front, eating and shopping places!
Here are a few Kuwaiti attractions that you can easily visit in your KWI Airport car rental.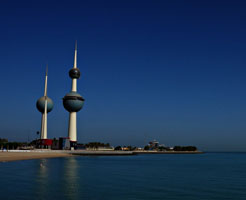 Kuwait Towers
Exceptional! The first of the two blue towers has a revolving view point and a great restaurant.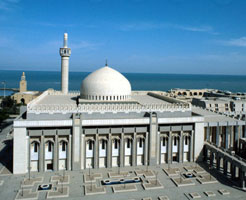 Grand Mosque
Spread over an area of about 45000 sq m, it is the largest mosque in the country of Kuwait.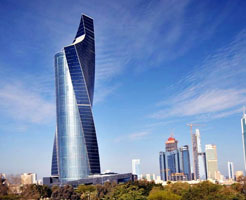 Al Hamra Tower
It is a Skyscraper in Kuwait, which is the tallest in the country and the 23rd tallest in the world.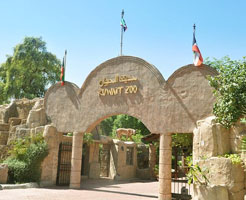 Kuwait Zoo
A great place for animal lovers, it is home to animals like lions, birds of prey & amphibians.
5 hour+ Layover

in Kuwait? What to Do?
Whether you have a 12 h, 6 h or 5 h layover, since Kuwait is a small country, there are plenty of 'points of Interest' that you can explore as they are just a few minutes from Kuwait airport. They are quite easy to reach, especially if you have a car rental at your disposal.
Visa Requirements
If you want to go out during your layover, you will need to get a visa on arrival - which is quite easy in Kuwait! All you have to do is pay a small amount and you will be free to go out.
If you are a resident of the US or a GCC resident, you will definitely be able to get a visa, but if you are from a different nationality, don't worry, residents from around 35 countries are entitled to visa on arrival in Kuwait. The countries are listed as under:-

USA, UK, Italy, Germany, Monaco, Liechtenstein, NZ, Japan, Luxembourg, Malaysia, Austria, Denmark, Portugal Ireland, Spain, Finland, Andorra, The Vatican, Iceland, Norway, The Netherlands, Greece, San Marino, Switzerland, Brunei Singapore, Sweden, France, HongKong, Belgium, South Korea, China, Canada, Australia, Poland.
Kuwait Airport Layover Ideas
Depending on the season when you are flying into Kuwait Airport, one's personal preference, and the time constraints, here are a few ideas that you can use to kill your layover time.
Kuwaiti Malls

If you're coming before September, our advice is that you should go someplace where you can spend your time INDOOR like 360 Mall- it is about 10-15 minute drive from KWI Airport by car. It is one of the most luxurious malls in the Middle East region.

Another such place is The Avenues Mall- it is 10-15 minutes from the airport by car. The best thing about this mall is that it is the biggest in the WORLD and hence offers a huge collection of brands, eateries & restaurants, and different phases which highlight different styles and heritage! There is so much to explore that pinpointing one thing as 'exceptional' is just pointless!

Outdoor Activities

Since you will have to be back at the airport 2 hours before your flight, for a 5 hr layover you have roughly 2 hrs to explore, which means you will be able to cover just one of the following activities, so choose well! But if you are someone who has more than 5 hrs layover & would rather like to experience all of these adventurous activities, then you are definitely in for a memorable ride.

Ice-Skating Rink

Ice-Skating Rink is the best way to escape the desert heat. Located about 20 kilometers from KWI Airport, it has an Olympic-sized Ice-Skating Rink which has a capacity of 1600, and is deemed the best in the region! It is interesting to note that the rink is used by the Kuwaiti Falcons – the official ice-hockey team of Kuwait – which is also the only Arab team ever to have earned the membership of IIHF. It also has another rink – seating capacity of 600 – which has a cafeteria, several Mc Ds, and a skating equipment store.

Diving & Snorkeling

Diving or Snorkeling in warm and shallow waters of Kuwait's Bay is considered one of the most pleasant ways to spend time by the adventure seekers. Kuwait Bay is also deemed one of the best places for the beginners, therefore if you have kids with you, you can definitely take them along as the waters are considered quite safe. Islands of Kubar and Umm al-Maradim are best known for diving; therefore if you want to visit them, make sure you have pre-booked a half-day trip with some local diving center. You can try the 5-star PADI at the KIM Center or the Dive Caroline at Messilah Water Village– they are good for both diving and snorkeling trips.
Driving Rules in Kuwait
While driving your Kuwait Airport car hire, make sure that you are carrying your valid driving license and vehicle permission from the government. Besides these here are a few tips and rules that you should keep in mind while driving in Kuwait:
Driving Lane:Driving in Kuwait is on the right-hand side of the road.
Mobile Usage: Using a phone while driving is illegal in Kuwait except for the case where you are using a hand's free kit.
Speeding Limits: Speed limits vary depending upon the area and the type of road Motorways: 120 km/h; Residential & shopping areas: 45 km/h
Street Signs: Street signs are usually in Arabic, but their English translations are also usually provided.
Seat Belt Laws: All the passengers need to wear seat belts and if there are children on board and are under 10 years of age, make sure they are seated in the back seats.
Emergency Roads: Avoid driving on emergency roads as they are meant for fire engines, ambulances, and police vehicles.
Frequently Asked Questions
How to get a quote for Kuwait Airport?

You can get a quote for your Kuwait Airport car rental either:

By filling the booking form directly at VIPCars.com.
By contacting our booking support team at our helpline number

What is not included in the rate which I have been offered?

Though this totally depends upon the supplier, yet it has been seen that the rate offered for the Kuwait Airport car rental deals never includes fuel charges, parking and traffic fines, out-of-hours charges, one-way rental charges, and young driver's surcharges.

For the full breadth of what is included and what is not in your KWI Airport car hire, read the rental terms and conditions properly.

For how long will my quote for KWI Airport car hire remain valid?

Though the suppliers can change the prices anytime without any prior notice, the price that you received by email will not change thereafter, it will remain valid until you choose to convert it into a booking. However, after canceling a reservation, the prior quote will not be valid anymore.

Can I rent an automatic car for KWI Airport?

Yes. When searching for your Kuwait Airport car hire, you can use the search filter "Automatic" given under "Transmission Type" on the left-hand side.

Must I have my driving license with me while collecting my KWI Airport car Hire?

You won't be allowed to pick your car rental for Kuwait Airport unless you have your full driving license in addition to the booking confirmation voucher.

What other documents do I need to have when collecting my rental?

Besides the driving license, you will need to carry the confirmation voucher, a valid credit card and an Identity proof with you at the time of car pick up. In case you don't have your original documents, our car rental partner may refuse to release the vehicle, and, although we will try to help in such circumstances, we cannot guarantee that the issue will be resolved eventually.

Prior to travelling, if you know that you will not have your license with you, if it is possible do request a temporary license from the driving authority in your country (like DVLA for UK residents). Many car rental companies do not regard this as an adequate alternative; therefore, we cannot guarantee that you will be able to collect your vehicle.

How do I hire extras with my Kuwait Airport Car Rental?

Every supplier provides its own set of add-ons for hire at the time of booking. The most common extras that you may find with your Kuwait Airport car rental are GPS, child and toddler seats, and additional driver. Add-ons like snow chains, winter tires, and ski racks can also be sought, but note that they are only available in certain locations on a request basis. You can request these online at the time of booking.

How do I change my existing reservation?

You can modify your Kuwait Airport car rental reservation by visiting VIPCars.com' 'Manage Booking Page' provided you have the reservation's confirmation number. In case you don't have immediate access to that information at the time, you can contact our booking support team to do the same.