Car Rental Pepsi and Cola Street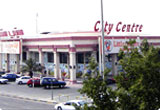 Pepsi Cola Street is the epicenter of all the industry and business related activities of Kuwait. Due to its location in the heart of Shuwaikh, a port town known for trade and commerce, the street is one of the busiest in Kuwait. From hotels to hypermarkets and from car dealerships to furniture dealerships, the street has it all.

Car hire is a popular choice here as it's close to the capital as well as the other nearby areas of interest. You can also book one with VIP Cars and explore famous tourist spots like the Doha village, Entertainment City and the Friday Market, which is one of its kinds in the country and attracts a lot of tourists. You can also visit the famous Aqua Park located near the Kuwait Towers, which is the only one in the country and is fifteen minutes drive from the street.

Choose the car of your choice in few clicks. VIP Cars guarantees you the best service at the best price in Pepsi Cola Street.