Car Rental Amsterdam Train Station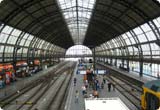 If a train completes your picture of an ideal vacation, nothing does it better than the Amsterdam station. As state-of-the-art trains pass through the station, they depict timeless beauty, making them a scene straight out of some Hollywood movie.Located in the heart of the city, Amsterdam station is not only an active transfer spot. All the beauty in the surrounding area has made it a famous attraction as well. Locals as well as tourists come to visit this station and are lost in the sheer charm of it. The neo-renaissance building featured at the train station is indeed its most attractive aspect.

If you are planning to travel to Amsterdam station, a good idea will be to hire a car from VIP Cars.