Car Rental Amsterdam West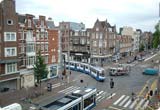 Amsterdam, the capital of Netherlands, is a breathtaking sight. However, it is the old west that boasts of a beauty so captivating, other cannot even dream of it. The old west is a lovely area with a history that dates back to the 19th century. With its many bazaars, exotic structures and natural beauty, Amsterdam is justifiably called the Venice of the North. Home to museums like the Van Gogh Museum and Museum Van Loon, the city offers diversity with several churches such as Oude Kerkand De Duif. In addition, superior works of architecture dot the entire city and it is easy to come across man-made structures that are nothing short of masterpieces. Since there is so much to do and see in the city, guided tours are not recommended. Instead, travelers should be able to explore the city attheir desired pace.

VIP Cars offer affordable car rental services to leave you thoroughly satisfied.