Car Rental Rotterdam Downtown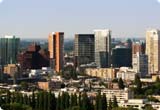 Rotterdam claims its superiority on being one of the largest ports in the world. With a history that dates back to the 13th century, the captivating city is often as a 'Gateway to Europe'. The city easily competes for being one of the most vibrant destinations to visit across Europe. Home to several multicultural cities, here you will be exposed to a striking diversity of state-of-the-art architecture, scenic riverside settings, eccentric cultural life and exciting maritime heritage.Rotterdam is also renowned for the Rotterdam Blitz.

The port of Rotterdam is one of the busiest ports in the world.If you are looking for convenience on a trip to the area, car rental in Rotterdam Downtown from VIP Cars is the best option.