Car Rental Norway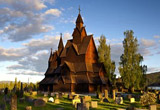 Norway is a Scandinavian unitary monarchy whose territory contains the western part of the Scandinavian Peninsula, the Arctic Archipelago, Jan Mayen, and the subantarctic Bouvet Island. Norway is renowned for the composite and deep fjords beside its west coast. Norway has Tromso on the top of its list of finest places to view the aurora or northern lights. Tromso should also be visited in summer to see the midnight sun.

Whether you plan to explore Oslo's lively nightlife and city culture, capture the scenic scenery and wooden buildings of Bergen, explore the medieval churches and Stone Age caves of Stavanger or have outskirts destinations like Jostedalsbreen, Sognefjorden and Jotunheimen on your mind, a rental car is without a doubt the most convenient means of travelling in this European country.
Atlanterhavsveien is a beautiful road wrapped by wilderness and connected with bridges is popular among both tourists and locals. And what's better way to explore this road than a car to drive on your own.
Book your car rental for Norway with us now!