Car Rental Bergen Airport [BGO]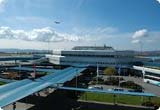 Bergen Airport, Flesland is an international airport situated in Bergen which is a city and a municipality in Hodalandcounty, Norway. If you find yourself in Bergen Airport, pass by the duty free shop for your shopping needs. Bergen Airport is conveniently located near various hotels, and here are some that you could choose from: InCity Hotel is located within the area of the National Theatre and Bergen's busy main square. Shopping centers and good restaurants can also be found nearby. The Thon Hotel Bristol is found on Tongalmenningen Square in the heart of Bergen. It has a waterfront view and its rooms are equipped with a flat screen TV and include a free Wi-Fi. Also look up Augustin Hotel which displays authentic paintings and sculpture by Norwegian artists.

You can easily get around Bergen with a car rental from VIP cars. Call now to book your car!