Car Rental Bergen Downtown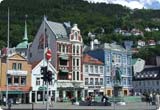 There are many interesting places to visit in Bergen Downtown. One is the Bergen Art Museum, one of the biggest museums in the Nordic countries. Art pieces from the renaissance as well as contemporary objects are displayed in this museum. St.Mary's Church, one of the most ancient edifices in the land which was built in the 12th century. It has a pulpit like no other and the church boasts of an altar, considered one of the most stunning in Norway. And if you are feeling adventurous, take a ride on the StatsraadLehmkuhl, a "three-mastedbarque sail training vessel" that was constructed in 1914, one of the best-preserved sea transport in the country. Mini cruises are scheduled at certain times throughout the year.

Get around Bergen Downtown in a rental car and explore the city and downtown at your own convenience. Book now!