Car Rental Sandefjord Airport (TRF)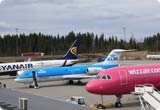 Sandefjord Airport, Torp is nearly five miles away from the center of Sandefjord. The Sandefjord Airport caters to both local and international air traffic. Further, Sandefjord Airport is also known as Oslo-Sandefjordor Oslo-Torp airfield.

With a car rental getting to your destination from Sandefjord Airport would be quick, easy and comfortable. You can book online with us through our three step booking process of select, choose and book.
Drive towards the Whaling Monument and glimpse this 1960 sculpture. You can also drive to Whaling Museum for more information and exhibits about whaling. These and many other local attractions can be easily covered with a car to drive around. Call now!