Car Rental Stavanger Airport (SVG)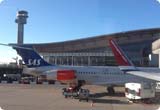 Located just seven miles from the center of Stavanger, Stavanger Airport is an international airport that connects the city of Stavanger to regional areas of Norway as well as other countries.

Begin your Stavanger excursion with a boat sightseeing on the Lyseford which is just a couple of hours tour that enables you to see majestic waterfalls, pulpit rock from below and awesome views. To end your night, have a drink at the VJU Restaurant and Skybar which offers breathtaking views of the city.

Get to the various attractions of the city with a rental car and make the most of your time and schedule. Find top deals for car rental at Stavanger Airport with us and enjoy best rental options including excellent fleet and rental inclusions.