Car Rental Moscow Downtown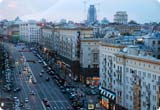 Moscow Downtown is a hub of activity to engage tourists. So when you are here, we suggest that you first check out the city's top sites to visit such as the Red Square, St. Basil's Cathedral and the Kremlin. We also suggest that you come see these sights both in daylight and at night time in order to appreciate better the changes.

Another Moscow Downtown attraction is the UNESCO World Heritage Site of the Church of the Ascension that is known for its wooden conical tower and Byzantine architecture. Then head to Vorobyovy Gory which is the best and unique viewing spot. Lastly, to enjoy a bit of Russian culture, check out the Bolshoi Theater.

You can explore all these places and many more easily through a car rental. Hurry and book with us now!