Car Rental Samara Airport (KUF)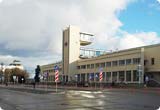 Also known as Kurumoch International Airport, Samara Airport serves the city of Samara and is located north of the city. This particular airport receives flights daily from local cities in Russia as well as from other countries such as Dubai and Germany. As the main airport facility in southeastern Russia, the airport handles thousands of passengers every year.

Samara Airport offers wide and spacious waiting lounges for passengers as well as many shops and restaurants within the airport complex. The airport is also nearby many tourist spots in the city such as the Volga River Park and the Zhiguli Brewery.

Tourists who enter Samara via Samara Airport should hire a car from VIPcars.com. We not only provide 24/7 customer support for booking but also have an extensive fleet of cars to choose from. Book now!