Car Rental Sochi Airport (AER)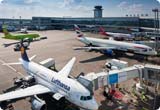 Sochi International Airport is located in the resort city of Sochi in Russia. The presence of the mountain ranges in the northern part of the city makes it possible for planes to take off and land on the sea side of the airport. For this reason, passengers are greeted with the scenic view of the Black Sea whenever they depart or arrive in Sochi.

Sochi Airport receives flights from airlines across major cities of Europe and is linked to other local destinations in Russia. It is equipped with modern facilities such as spacious passenger lounges, boutiques and restaurants. The airport is also connected to the Sochi Olympic Park, which will be the venue for the 2014 Winter Olympic Games.

Tourists who want to explore the city upon their arrival at Sochi Airport should hire cars from VIPcars.com. Book now!