Car Rental Johannesburg Park Station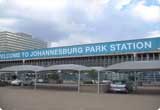 Johannesburg Park Station was built way back in the late eighteenth century in 1897. The station faced severe problems and was shut down for a little while. It was renovated and then reopened by the year 1946. Johannesburg Park Station is the main railway station in the city of Johannesburg of South Africa. The railway station is also the largest railway stop in entire Africa. Johannesburg Park station is located between the main city of Johannesburg and Braamfontein. Park Station serves train services to Carletonville, Soweto and some others in west. To east, it provides railway services to Nigel, Springs, and some others. To the north, it serves Pretoria and to south it serves Vereeniging. It also serves as a terminating point to long distance routes of Cape Town, Port Elizabeth, and London.

If you are planning to land at this station and travel to near about, then rent a car from VIP Cars and make your journey at ease.