Car Rental Durban Downtown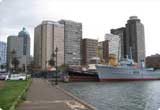 Durban is located in the KwaZulu-Natal Province of South Africa. The city is the largest city in the Province and third largest in entire South Africa. The city of Durban is very famous due to its extensive tourist spots and due the presence of the busiest port in entire South Africa.
Export import and courier services flourish in here due to the port. The city has quite a few beaches with a subtropical climate making it feel like Caribbean. The pathway to the historical Zulu kingdom and the Drakensberg is from here. There are lots of other attractions like the Golden Mile Stadium which hosts many international sporting events too. Others are the uShaka Marine world which is one of the biggest aquariums in the entire globe, Kings Park Stadium which hosts international Rugby tournaments, the International Conference Center, the Gateway Theatre of Shopping.

Explore the city life and beaches of Durban with a rental vehicle. Call us to book!