Book a car rental in Mainland Spain
---
| | |
| --- | --- |
| Minimum car rental age in Spain: | 21 Years |
| International Driving Permit (IDP): | Required for non-EU license holders |
Book a car rental to explore Spain, pick up and drop it off choosing from a variety of destinations where our car rental suppliers provide service. VIPCars.com is a car rental booking website where you can find many options for booking a comfortable rental vehicle in Spain and other locations. Be it a trip to one of the unique Spanish cities or to an exotic beach location in the mainland, our car rentals are apt for all sorts of activities in Spain.
Our broker website is known for its flexible car rental options to suit evert kind of car rental need in Spain. You can choose from a variety of car rentals and add extras to customise your car rental selection for Spain. Our fleet of rental cars in Spain Mainland consists of good quality cars belonging to high-end manufacturers such as Ford, Toyota, SEAT, Skoda, Mercedes, Peugeot, Nissan, BMW & Mini. The fleet is well-maintained and caters to every budget with optional add-on extras such as additional driver, snow chains and infant seats.
To add to the perks, we have a cancellation policy that entitles you to a refund if you make the cancellation prior to 48 hours from the scheduled pickup. The great network of Spanish roads along with the varying geography of Spain, add to the fun of driving a car rental in Spain.
Top car hire companies in Spain
Through our booking engine, car rental for Spain is supplied by these reputed chains which have networks all over the country.
Alamo Rent a Car
Centauro Rent a Car
Enterprise Rent-A-Car
Europcar
Firely Rent a Car
National Car Rental
Sixt
Our car rental fleet in Spain
Here is our most sought-after car rental fleet available in Spain and you get to choose from a wide fleet of cars, according to your car rental requirements. Apart from these, there are many more car categories which you can find while booking a car rental for Spain through our website.
Sedan

Enjoy long drives in Spain in a comfortable sedan, go for an air-conditioned vehicle for more comfort.

Vans

If you are a large group then rent a van available at a cheap price at our website, choose from 5, 7 and 9 seater vehicles .

Compact

Our compact cars are apt for an effortless drive and easy parking in the city areas such as Madrid and Barcelona.

SUV

A spacious SUV will be apt for rugged drives where neither comfort not luggage room are sacrficed.
Important car rental destinations in Spain
Valencia Airport (VLC)
Barcelona, Marbella
Murcia Airport (MJV)
Madrid
Mallorca Cala Mandia
Bilbao Airport (BIO)
Jerez Airport (XRY)
Almeria Airport (LEI)
Malaga
Granada Airport (GRX)
Seville
Madrid Train Station
Driving in Spain
Spain has excellent roads, leaving aside the islands and unpopular routes. You should follow the mentioned speed limits in the urban areas.
Driving is carried out on the right-hand side of the roads. Driving a car rental in Spain will give you more to experience.
Guide for car rental in Spain
The age for renting a car in Spain is at least 22 years or 25 for some categories.

65 years is the upper age limit for most of the rental brands.

A valid driving license is required and an international permit for non-EU license holders.

Present an identity proof while picking up the rental vehicle.

All passengers in the car must wear a seat-belt.
Road trip itinerary for Spain
The following itinerary covers all the main points of interest in Spain, including seven World Heritage Sites.
Cuenca to Toledo

Distance:111 miles

Time: 1 hour 45 minutes
Toledo to Cordoba

Distance: 215 miles

Time: 3 hours 19 minutes
Merida to Caceres

Distance: 78 miles

Time: 1 hour 30 minutes
Barajas Airport to Alcala de Henares

Time: 35 min

Distance: 25.3 km

Route:A-2
Alcala de Henares to Cuenca

Time: 1 h 46 min

Distance: 167.2 km

Route: A-40
Cordoba to Seville

Time: 1 h 43 min

Distance: 144.8 km

Route:A-4
Seville to Merida

Time: 1 h 58 min

Distance:192.2 km

Route: A-66
Caceres to Barajas Airport

Time: 2 h 52 min

Distance: 312.2 km

Route:A-5
About Spain
The Spanish country is located on the Iberian Peninsula of Europe and comprises of 17 autonomous parts with varying cultures & geographies. The capital of Spain is Madrid, where the Royal Palace is located. The country is blessed with serene beaches, enjoys a colourful nightlife and is rich in art and culture.
So, the country is apt for all types of holidays such as visiting the cold mountains of the north or the hot deserts of the south. Spain never disappoints! Spain is also a treat for art enthusiasts as many popular and iconic artworks are housed in its cities.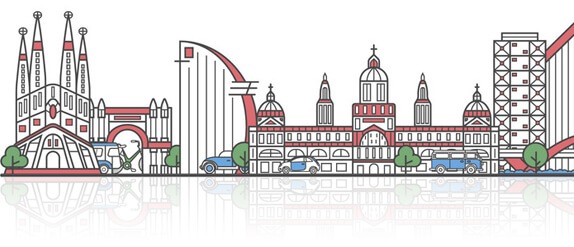 What are the popular destinations in Spain?
The following are the most popular architectural and natural landmarks in Spain.
Barcelona

The cosmopolitan capital of Spain's Catalonia is rich in art & architecture. Sadgrada Familia Church, Park Guell, La Rambla and Casa Mila are the top attractions in modernist attractions of the city.

Madrid

The capital of Spain is the city of stylish roads, freshly-manicured gardens such as Buen Retiro, world-class European art collection in the Museum of Prada and the Royal Palace of Madrid.

Granada

Granada is a city in the southern part of Spain's Andalusia region, on the foothills of the Seirra Nevada mountain range, with attractions like Alhambra, Generalife, etc.

Sivelle

Seville, the capital city of the Andalusian part of the country is known for Alcazar, Gothic buildings such as the Cathedral, Giralda and many other landmarks such as Puente de Isabel II.