Hire a car for
Barcelona Airport

now and get exclusive low-cost deals!
---
Hiring an affordable rental car for Barcelona-El Prat Airport has never been so easy with VIP Cars, a car hire broker trusted by millions of travelers across the globe. As several rental car companies offer their services at the airport, it becomes difficult to decide upon your preferred car hire supplier at BCN Airport. VIP Cars makes a sincere effort to take you out of this dilemma by simplifying the process of searching, selecting, comparing, and then booking a rental car for Barcelona Airport. We use a user-friendly online car hire booking engine that clearly shows what you are getting, including critical information like additional driver for Barcelona Airport, winter tires, one-way car rental from Barcelona Airport, cross-border travel from BCN, and applicable taxes, when you choose us to book a rental car for Barcelona-El Prat Airport.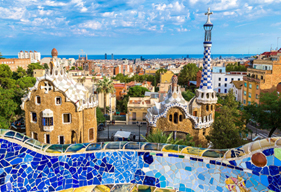 Barcelona Airport
One of the busiest airports of Spain, Barcelona-El Prat Airport handles more than 40 million passengers annually. While flights to and from regional destinations constitute as bulk of air traffic at the BCN, the airport does offer some flights to international destinations spanning across North America, South America, Africa, and the Middle East. A popular car hire pick-up location in Spain, BCN Airport has become tourists' first choice for renting a car in Spain's Catalonia region. Driving distance of just 12 km/7 miles from Barcelona Airport to city center also contributes to wider popularity of car hire at El Prat Airport.
08820 El Prat de Llobregat,

Barcelona, Spain

IATA Airport Code:

BCN

ICAO Airport Code:

LEBL
Barcelona Airport terminal
facilities
Barcelona Airport consists of 2 passenger terminals – Terminal 1 (T1) & Terminal 2 (T2) – with the latter being further divided into Terminal 2A, 2B, and 2C. In addition to regular Barcelona Airport shops, terminal facilities at El Prat include- tourist as well as general information counters, restaurants, conference rooms, baggage storage facility, ATMs, currency exchange counters, restrooms, moving walkways, and Wi-Fi. As T1 & T2 are about 2.5 miles apart, Barcelona Airport shuttle runs 24/7, providing a free transport facility to passengers going from T1 to T2 and vice versa.
Barcelona City
A vibrant seaside city, Barcelona is known for its welcoming culture, exquisite architecture, gastronomical finesse, and a fun-filled nightlife. For a city that offers so much to explore, and is sprawling across 40 sq mi, a rental car from BCN Airport is the most suitable way to enjoy sightseeing. While relying on public transport for few of the centrally located attractions sounds bearable, the plan simply fizzles out when you have to drive even a little beyond Barcelona's conventional boundaries. Contrastingly, if you hire a car from Barcelona-El Prat, it gives you immense freedom to plan your trip, giving you several reasons to embark on some unforgettable day trips, besides covering the local attractions. Have a look at the Barcelona's most visited attractions:
Sagrada Familia
Carrer de Mallorca, 401, 08013 Barcelona, Spain
One of the most visited monuments of Spain, the Basílica i Temple Expiatori de la Sagrada Família attracts thousands of tourists every day. Famous for its imposing towers and architectural brilliance, this medieval cathedral has been undergoing construction for the past 130 years. Requiring you to use stairs as well as elevators, Sagrada Familia's accessible areas include – museum, crypt, shop, nave, and the nativity and passion towers.
Park Guell
08024 Barcelona, Spain
A UNESCO World Heritage Site and a dream-like place that seems to be a fictional artwork, Park Guell is a sublime creation of Spanish architect Antoni Gaudi. A place that gave Gaudi ample freedom to pursue his passion, Park Guell is a popular tourist destination. Crisscrossed by multiple pathways, the landscape garden features mosaic relics and several neatly designed open spaces. You can also visit the Gudi House Museum situated inside the park.
Casa Mila
Provença, 261-265, 08008 Barcelona, Spain
Another UNESCO World Heritage Site, Casa Mila, also famous as La Pedrera, is another masterpiece created by Antoni Gaudi. Famous for its unusual facade, Casa Mila was constructed between 1906-1910. La Pedrera also houses a small museum dedicated to Gaudi. The private residence of Spanish businessman Pere Mila had initially garnered wider public outcry over its unconventional design that featured stones, balconies made of wrought iron, and one underground garage.
Tibidabo Amusement Park
Plaça Tibidabo, 3-4, 08035 Barcelona, Spain
One of the oldest functioning amusement parks in Europe, Tibidabo Amusement Park attracts hundreds of tourists every day. You'll be amused to see some of the original rides, as long as 20 years old, in active use inside the park. The 1928 Red Areoplane, featuring a replica of airplane that flew between Barcelona and Madrid, is the most popular ride. You can also visit the Tibidabo Museum of Automata situated within the amusement park.
Museu Picasso
Carrer Montcada, 15-23, 08003 Barcelona, Spain
Tastefully spread across 5 stone mansions, the Museu Picasso guarantees a delightful experience. Besides featuring a mesmerizing collection of more than 3,000 artworks, the museum includes massive courtyards, elegant staircases, and beautiful galleries. While the initial collections at the museum, when it was opened in 1983, were quite a few, the numbers of artwork expanded over the years following generous donations from Sabastia Junyer Vidal and Salvador Dali.
FC Barcelona Museum
Carrer d'Aristides Maillol, s/n, 08028 Barcelona, Spain
A place known as Vatican of the football fans, the FC Barcelona Museum, along with the Camp Nou, are must-visit places during your stay at Barcelona. The museum features multimedia exhibits, displays, trophies, and a special section dedicated to Lionel Messi. After watching some exciting goals over the massive touchscreen displays, you are guided to enter into legendary stadium. The stadium tour includes visit to dressing room, press room, television studio, and the commentary boxes.
Nightlife in Barcelona
As Barcelona is one of the largest metropolitan cities of Spain, it is home to several happening neighborhoods that buzz with life as the sun sets. Whether its live music concert or just a round of drinks you wish to indulge in, the city packs in enough venues to enjoy your daybreak. We provide you with a list of places where you can drive in your BCN car hire and capture the best of Barcelona's nightlife.
Opium Barcelona: Passeig Marítim, 34, 08003 Barcelona, Spain
Marula Café: Carrer dels Escudellers, 49, 08002 Barcelona, Spain
Razzmatazz: Carrer dels Almogàvers, 122, 08018 Barcelona, Spain
Moog: Carrer de l'Arc del Teatre, 3, 08002 Barcelona, Spain
Macarena Club: Carrer Nou de Sant Francesc, 5, 08002 Barcelona, Spain
Otto Zutz Club: Carrer de Lincoln, 15, 08006 Barcelona, Spain
Day trips from Barcelona
For a city as grand as Barcelona, any amount of time is less to cover all of its attractions. But in order to spruce up your trip, it is strongly suggested to carve out little time to explore Spain that lies beyond Barcelona's boundaries. As Spain is geographically diverse with beaches and mountains coexisting in between small towns, you can expect a memorable road trip in your El Prat car rental. Check out the list of most popular day trips originating from Barcelona.
Barcelona – Girona
(103 km/64 mies via AP-7)
Forget the time machine! Your road trip to Girona offers a direct route to enter into the 15th century. An imposing cathedral, cobblestone streets, impressively built churches, and centuries old houses, all these make Girona a place that literally imitates the historic place that you have been dreaming of. Other worth mentioning places include – the 12th century Arab baths and Romanesque Monestir de Sant Pere de Galligants. The new town area also features several tapas bars and restaurants.
Barcelona – Figueres
(138 km/86 miles via AP-7)
Another popular day trip destination from Barcelona and a place best known for its treasure trove of architecture, Figueres is worth your time if you are interested in old monuments. Besides the 18th century Castell de Sant Ferran, which dominates its skyline, the town is famous for its toy museum and the Teatre-Museu Dalí. An old theater, the Teatre-Museu Dalí now features a fine collection of jewelery, statues, and paintings.
Barcelona - Sitges
(42 km/26 miles via C-32)
One of the prettiest seaside towns, Sitges is popular among tourists for its splendid beaches. Besides enjoying the natural beauty, while sitting by calm sea waters, you can also munch nice food as the seafront is dotted with several restaurants. Sitges is also home to some classical buildings as well as museums that are located a bit inside the town. Note that you will have to arrive early on the beach if you want to choose a place of your choice to relax.
Barcelona - Montblanc
(119 km/74 miles via AP-7 & AP-2)
Road trip to Montblanc from Barcelona is as as interesting as the destination itself. Locally known as the Cistercian Route, the road to Montblanc will lead you to a group of 3 beautiful monasteries - Vallbona de les Monges, Poblet, and Santes Creues. Start from Barcelona at the crack of dawn if you want to visit all the three during your day trip. An old walled town, Montblanc offers quite decent options when it comes to dining and staying.
Barcelona – Vic
(86 km/53 miles via C-17)
Visit Vic for its intriguing historic center and some of the best Spanish restaurants. Besides, the place is also home to Placa Major, a beautiful town square, where you would find several medieval mansions. Vic is also known for its traditional markets, which garner much tourist attention due to the wide range of farm produce that one can buy from there. The Cathedral of St. Peter the Apostle in Vic is another important monument featuring Gothic, Romanesque, neoclassic, and baroque styles.