Car Rental Marbella Downtown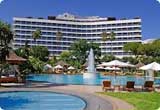 One of the grandest beach tourism locations, Marbella Downtown is famous for its luxury yachts, cruise ships, and large golf ranges. Fair and Fiesta of San Bernabe, an annual summer event, is another major attraction. Organized in the month of June, the festival is attended by tourist groups in large numbers. Located approximately 363 miles and 652 miles away from Madrid and Barcelona respectively, the downtown region is well connected by number of road networks. You can also pick-up a rental car from Málaga-Costa del Sol Airport and Gibraltar International Airport, located approximately 32 miles and 48 miles away respectively.

Book a Marbella Downtown car rental deal now and get exclusive benefits and offers!