Car Rental Montevideo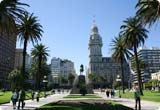 Capital of the Oriental Republic of Uruguay, Montevideo is one of the largest port cities of South America. A city with rich cultural and architectural heritage, Montevideo is home to literally uncountable monuments and landmarks. While tourism accounts for significant contribution to nation's revenue, banking services segment, which has been the traditional business of Montevideo, continues to dominate regional economy. Be it a routine business or a holiday, the city equally popular among business travelers and leisure tourists. At VIP Cars, we understand your domestic commuting needs, and thus provide exclusive Montevideo car rental deals through well established car rental suppliers of Uruguay. All you need to do is simply search, select, and book a commuting deal that best suits your purpose.

Call our customer care representative for more information!